deviceTRUST 21.1 SP2 (version 21.1.310)
This sevice pack release includes minor features and bug fixes to the deviceTRUST Console, Agent and Client Extension for Microsoft Windows. See deviceTRUST 21.1.210 release notes for full details of the changes introduced in 21.1.210. Please refer to Compatibility for changes that may impact users upgrading from previous releases.
The deviceTRUST 21.1.310 patch includes bugfixes and minor enhancements to the deviceTRUST Console, Agent and Client Extension.
User interface refinement
We've refined the branding within the deviceTRUST Console, and also enhanced the layout of many of our pages. This includes the context condition picker, which now offers a filter allowing faster navigation of properties either by name or by their supported operating system.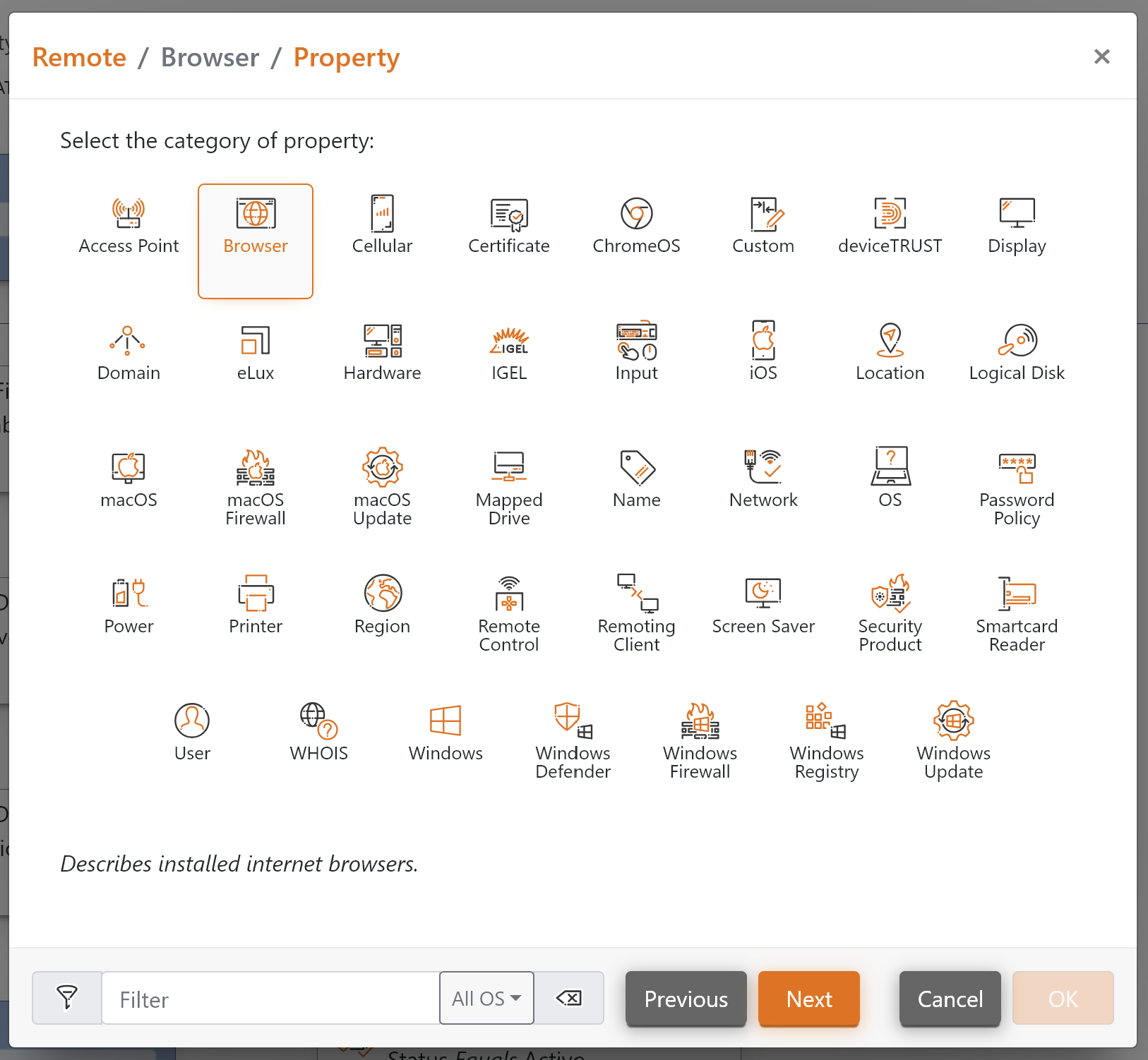 New Cloud Templates
A new collection of templates targeting the cloud and our Azure AD integration has been added. More information can be found here.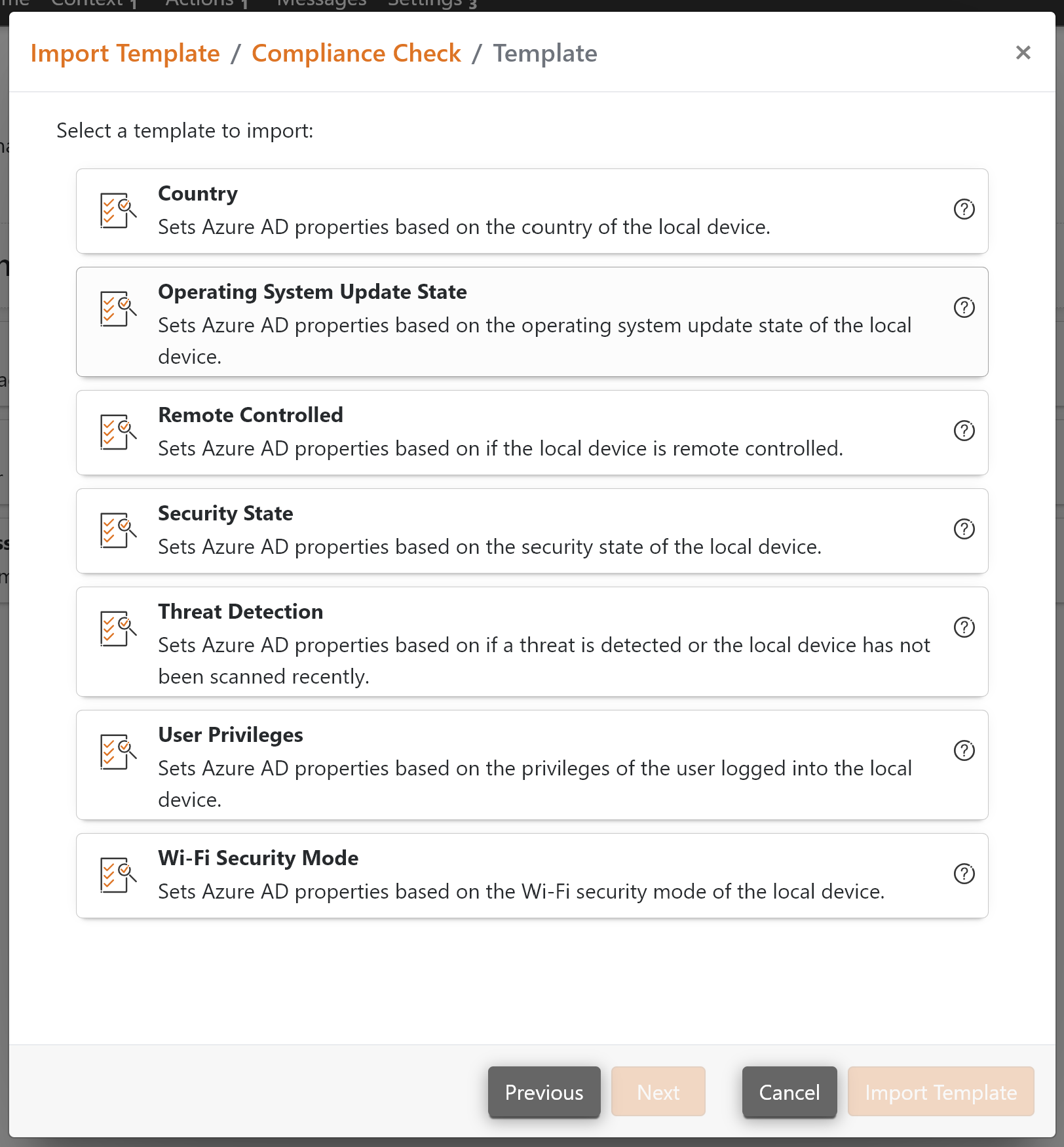 Other changes
The Custom Properties Settings now supports remote Linux and IGEL devices. The forthcoming deviceTRUST Client Extension 21.1.300 or later for IGEL and Linux devices is required.
The Terminate App task now groups together processes with matching names and parent / child relationships.
When configured with mobile integration, the deviceTRUST Agent no longer calls to the server on Citrix platforms when Citrix reports that the remote device is Windows, Linux or macOS.
Bug fixes in 21.1.300
Fixed an issue where the Please Wait screen would appear on Local console sessions even when the Block user session during Logon and Reconnect (or Unlock) advanced setting was enabled.
Fixed an issue where multiple resizes of a full screen Citrix session would occur during an Unlock on a Local device running the deviceTRUST Agent.
Fixed an issue where Remote Custom Properties for Windows would not work when using Local Custom Properties on the same device.
Fixed an issue where the WHOIS country could be cached even when it was empty.
Fixed an issue where the deletion of properties would fail when the remote device was running the deviceTRUST Client Extension 20.2 or earlier.
Fixed an issue where the Terminate App task, when matching processes by process name, could be triggered when the context filter no longer matches.
Bug fixes in 21.1.310
Fixed a bug where the deviceTRUST Console would very rarely save or export encrypted deviceTRUST Policy files with a truncated random key, preventing the policy from being loaded.
Fixed issue where Event ID's 201, 202 and 203 from remote custom properties execution would have a 1970 trigger time.
Minor enhancements to 21.1.310
Added support for session idle time of remote Windows devices.
Added support for the Popup Task to execute a named trigger when the default OK button is clicked.
Updated the deviceTRUST Console's supported remote device properties available on Linux, IGEL and iOS platforms.
Compatibility
Please refer to our general approach to compatibility which can be found on the compatibility page.
If upgrading from a version older than deviceTRUST 21.1.210, be sure to refer to the deviceTRUST 21.1.210 Compatibility notes.